I am so excited about the "Spring Into Health" blog event!
I have been blessed with a lot of great sponsors and the reviews and giveaways are just looking wonderful (and healthy!)! I think everyone is going to enjoy the products and hope you all have a great time!
Please get the blog event button and share it on your blog, etc!
The event will be starting right after Easter, so keep checking back so you can be in on all the action!
Here is the button (and the link to it is on the sidebar)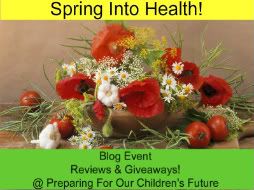 And now......The list of sponsors so far!!!
The Straight Stitch
KellysJewelry
me & gogi
Stonyfield
Frontier Coop
Morning Glories Handpainted Glassware
Green Mountain Coffee
Tropical Traditions

Keep checking back as I add more sponsors!
Thanks!
~Hannah