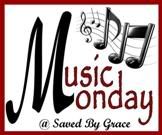 Today I wanted to share one of my favorite Third day songs! "Love Song"!! I always call it "Just to be with you" though! =) I love how it paints the breathtaking picture of what Jesus has done just to be with us! And He would do it all again! Wow! Just makes you cry and praise the Lord for all His wondrous love that He just poured out for us! And continues to bless us with! He is soooooo good to me and you!
When I was looking for "Love Song" by Third Day, I stumbled across this song by Paul Baloche! I have never heard him before but this song fits so well as a reply to the song above!
Christ is telling all He has done to be with us, and we are here, empty, needing Him to feel us. "All I want, all I need is Just to be with" Him!
Here is Paul Baloche telling the story behind the song.
This Easter, Praise the Lord that He made a way for us to be with Him!
God bless your Monday and week ahead!
~Hannah
For more music to start your week on the right note, visit Shawntele's blog, "Saved By Grace"!