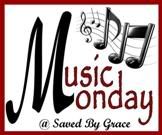 Easter, Christ death and Resurrection have been weighing heavily on my mind lately. I may tell you more about it later or may not. But it has just been there. This song really moved me to praise and worship and it is just so wonderful to hear the lyrics and think of all Christ has done for me!
"Praise God! I'm Saved! I'm saved like the criminal on the cross!"
God is sooo Good! Praise His Most Holy Name! I think I am going to watch the "Passion of the Christ" since I have not gotten to yet, and just have a good, emotional time of thinking of all Christ has done for me and the price He paid so that I could be free!
For more great music to get your week off on the right note, visit Shawntele's blog, "Saved By Grace"!
Hope you have a blessed Monday and week ahead! ~Hannah
"Criminal On The Cross"
By Acappella