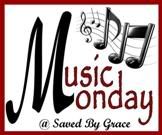 I wanted to share a song, sung by Michelle Tumes today! She has an amazing voice and I love this beautiful song! The video goes so well with it too! One of my favorites for Easter time! Hope you enjoy it too!
To join Music Monday and listen to more inspiring songs, visit Shawntele's blog,
"Saved By Grace"!
God bless your Monday and week ahead!
"What Wondrous Love Is This"
By Michelle Tumes