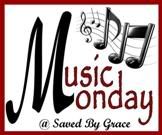 Hello Music Monday friends! Hope you all had a lovely Valentines day!
I wanted to share a song about love today, since I did not make it for Spiritual Sundays, yesterday. You may have heard other artist sing this great song, but this is my favorite version! Hope you enjoy it too!
"You Put This Love In My Heart"
By A Capella
For more great Music to start your week out on the right note, visit Shawntele's blog, "Saved By Grace"!
And don't forget to enter the giveaways that are going on here at my blog!
Superstructs Building set (ends 2/25)
Ultimate Lego Crayon set (ends 3/8)
Have a Happy Monday and God bless your week!
~Hannah