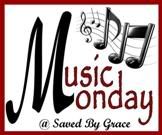 The need for God in your life is strong.
It is the empty spot. That hole that you feel. HE is what is lacking. "No. No." You might say. You may deny it for years, you may try to fill it with all the pleasures in this world, but that huge hole, that ache and maybe even pain will always be there, till you let Him in! He stands and knocks. He does not barge in or sneak in like satan. He ask and waits. it is your choice. Your decision, whether you open the door and let Him in or not.
You will always have a huge hole, until He makes you whole!
God wants you. He loves you. He gave everything for you and all He ask is for you to live for Him! He ask you to need Him and want Him! He wants to bear your burdens with you! Why should you continue to do it all alone? He is only a prayer away!

Hope you enjoy the song and the beautiful pictures on this youtube! Great for this time of year!
"I Need You"
By JarsofClay
Album: The Eleventh Hour

For more great music to start your week out on the right note, head over to Shawntele's blog,
"Saved By Grace"!
Hope you will share a song too!
Hey, and don't forget to enter my blog giveaways while you are here! I have 4 now and 1 ends this week!
Happy Monday!
~Hannah