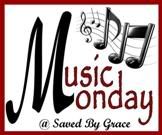 Wow. This is amazing. Another great moment in my day that you can clearly see God's hand!
After reading a very powerful testimony of a friend, I decided to find a song for Music Monday, and after going over some A Cappella songs I stumbled upon "I Understand"!! I have not heard this song since I was a child! How great is that! PTL! PTL! I have posted the lyrics below since I think you will want to read them, as you hear this song over and over!
For more great songs, visit Shawntele's blog, "Saved By Grace"!
"I Understand"
by
A Cappella
From the album: "We Have Seen His Glory"
Thank you Jesus for saving my soul
Thank you Lord for inviting
You're preparing my heavenly goal
Hardly wait, so exciting
Now I'm part of the family
This is something to live for
You're provide my liberty
Making me want to give more

Thank you Jesus, you opened my eyes
Showing truth from the fiction
Help me better to realize
There's no contradiction
You are God You became a man
Came to love and to heal us
Now the gospel I understand
Nothing but the blood of Jesus

Chorus:
You are God you became a man
Now this gospel I understand
And you've done everything you can
Now this gospel I understand

Thank you Jesus, for loving me still
Ways that we cannot measure
Give me courage for doing your will
Serving you is a pleasure
You've created my heart to sing
All the world's gonna hear it
You're Creator of everything
Fill me now with your Spirit

Thank you Jesus, for taking me home
You're the one who is knowing
Stay with me so I'm never alone
Everywhere that we're going
Guiding me down the narrow road
Showing me the direction
Taking over my heavy load
Promising resurrection

Repeat Chorus (x2)

I understand, I understand
I can, I can understand it

Thank you Jesus, you opened my eyes
Showing truth from the fiction
Help me better to realize
There's no contradiction
You are God You became a man
Came to love and to heal us
Now the gospel I understand
Nothing but the blood of Jesus

Repeat Chorus (x2