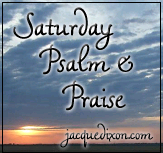 "It is good to give thanks to the LORD,
And to sing praises to Your name, O Most High;
To declare Your lovingkindness in the morning,
And Your faithfulness every night." Psalms 92:1-2
Our God is soo Great and Good!
Everyday I am reminded of His goodness! Oh, that everyone would praise the Lord! He gave us this day and yesterday! He has showered us all with blessings! He is worthy of continual praise! May we praise Him when we raise in the morning, for the beautiful day that he has blessed us with! May we kneel at our bed in awe of His grace! May we praise Him in our daily Bible reading, as we read of the Psalms and His great works for His people! May we praise Him as we break our bread and eat our meals. May we praise Him for our loved ones as we clean the house, make meals, homeschool and and keep or home for our family! May we praise Him for all our pets and animals as we do our chores. May we praise the Lord as we work in the yard! May we Prasie Him in the evening as we lay and rest after another blessed day from our Good Lord! Oh, that our minds were continually filled with thoughts of the Lord's loving kindness and all that He is and does! May a song of praise be upon our lips and may our children learn to praise the Lord while they are yet very young and may their lives be filled with praise for their Lord! May our life be commited to the Lord and praise to Him!
Praising Him,
Hannah
"Seven times a day I praise You,
Because of Your righteous judgments." Psalms 119:164