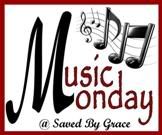 Music Monday! Yippee! Yesterday, I played some A cappella songs from Youtube and it was so refreshing! I look forward to hearing all the songs linked up over on Shawntele's blog, "Saved By Grace" today!
I knew days ago which song I wanted to share today. I have been going over millions of things in my head the past few days, since i have decided to take off on a home business (see post below)! I keep telling myself that no matter what, I am going to give God the glory and praise His Name! Whether the business goes good, really good, or not good at all! I am putting it all in His hands and look forward to where His paths lead me!
How this song speaks to my heart and puts words and music to my jumbled prayers!
Dear Heavenly Father, Help me to be humble. Help me to give you all the praise and glory and help me to never be proud and haughty! Give me a meek and gentle spirit so that when people see me, they see You and not me. Help me to be respectful of others and to show You the reverence You are so deserving of. And when people complement me, help me to be brave and use that as an opportunity to share about You. In Christ Precious Name, Amen.