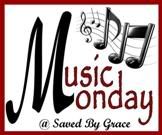 Hope ya'll will join in on Music Monday! There should be some great Christmas songs shared over the next month! If you have one to share, I hope you will! Just go to Shawntele's blog,
"Saved by Grace"
and link up! One lady shared a really great A Capella song today! It the singers are just so talented and the song is very....well you just have to go hear it! =)
Well, I have so many Christmas songs that I love it is hard to choose, especially since we only have 4 Monday's left before Christmas!!
I decided to share Jars of Clays song "Love Came Down at Christmas"! But then I found the Jars of Clay version of "I Heard the Bells on Christmas", and the youtube of it is very beautiful! So I just had to share both!
Christmas is such a busy time for everyone and I think it is important that we remember the true reason for the season and that Jesus came to bring love, for He is love and Christmas should be a time to show our love! Not so much in how many gifts or how great the gifts are, but that we show actions of love! That we are a good example and keep our hearts and minds on things above and not on things that do not last. Christmas is a time to love, to make an extra special effort to show those close to us how much we love them and to do good to those in need! To show love to someone hurting, lonely or someone that is just not giving much attention or appreciation.
Hope you enjoy the song, "Love Came Down At Christmas" and may you keep Christ love in your heart, thru the Christmas season and Always!
Things are not very good in this country right now. I do not believe that we will ever see it back to how it was, but then again I do not believe it was all that great from my Christian stand point. We have been killing millions of babies for years now, we throw our children out to the wolves and they grow to be products of a sinful world, we tolerate what is evil and we compromise.
Everything seems really upside down right now, but God can and I believe will give His strength to good people and there will be peace on earth for many, again!
Praise the Lord! He gives peace, no matter what the world gives or takes away!
As I said the video of this song is amazing! It takes you thru Christ life and is very touching! I hope you will take the time to watch it while you hear the song. Jars of Clay did a great good on the music, I think!