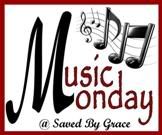 There are some great songs linked up over on Shawntele's blog,
"Saved by Grace"
today! Hope you will go over and hear them. It is a great way to start your week out!
I wanted to find a special song for this week on giving thanks, and I think this is it! I had never heard it before but it is really good! It is a good reminder during this busy week, that we need to be thankful for God's gift of His Son, for us! A good song with Christmas coming up too!
Hope ya'll have a very blessed Thanksgiving week and week-end!
God is Sooo Good!
"Give Thanks"
By Don Moen