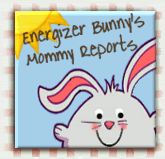 I have a new favorite blog for finding GREAT giveaways! You have got to follow "Energizer Bunny's Mommy Reports"!! I think you will like it too!
She has tons of great giveaways going on right now, and I am finding wonderful ideas for Christmas gifts, crafts, etc!!
The giveaway I am soo excited about today is the Discovery Toys giveaway!!! A $35 gift card!!! I LOVE Discovery Toys! Wish I could be a part of their sales team and recieve and sell all those great toys for them! Aahhhh! That would be so cool! Maybe someday...
Anyways, get over to "Energizer Bunny's Mommy Reports" and join the fun!!