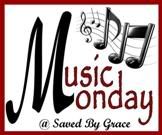 I was so upset to miss Music Monday last week! Ack! Too busy to blog almost! Today I was canning the last of the apples, then went to a committee meeting with husband tonight, for the farmer's Cooperative! So I am almost to late again! I did listen to some of my music I have saved on the computer, and wanted to share this song today! It is a very comforting song, I think. Makes you think about God's care and love for us and how mighty and strong He is! Praise His Holy Name!
Hope you will join us next Monday at Shawntele's blog, Saved by Grace for more uplifting music, to start your week off right! Praising the Lord!
Oh, Shawntele shared a Newsboys song this week too! So, if you are a Newsboys fan, you will enjoy this! =)
"In the Hands of God"
by the Newsboys