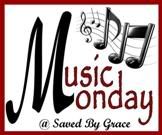 Wow! Only a few days left till Christmas Day! I hope and pray everyone is having a lovely Christmas season! And dwelling on the true meaning and reason for this season! God bless you and I hope you enjoy the sings over on Shawntele's blog, "Saved by Grace"! There are some great songs to get you in the Christmas and praising spirit!
Today I am sharing two special Christmas songs and more of my favorites too!
"The Night Before Christmas"
By Amy Grant

And the
"Christmas Canon Rock"
By Trans-Siberian Orchestra