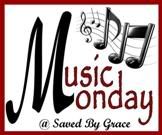 Tis the season for some wonderful and uplifting Christmas music about our Savior's birth! How miraculous that He became a man, like one of us, and walked among us! he endeared the hurts and pains of all mankind, then died a terrible death, that only the worst of mankind had to endure! What a Savior! Hallelujah!
Today I wanted to share Amy Grants song, "Emanuel, God with Us" (one of my favorite Christmas songs!).
It is so wonderful to know that God is with us, everyday! Praise His Most Holy Name!
For more great Christmas music and to join for Music Mondays, visit Shawntele's blog, "Saved by Grace"!
God bless your week!