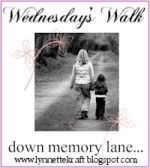 I have been thinking about joining all the ladies at Lynnette's Wednesdays Walk, over on her blog
"Dancing Barefoot on Weathered Ground",
and finally, here I go! I have a lot to share, but may not be able to make it every week!
God bless you all!
~Hannah
Wow! It is hard to believe my "little" brother, Drew just turned 18!!!
I found this picture of his 11th birthday (June '02)! Here he is with me sitting beside him and brother, Arthur, in the background!
Like each of my siblings, Drew holds a very special place in my heart.
Drew is the fourth child of 7, he was the secound baby mom had at home and when he was just 2 yrs. old had to spend 10 days in the hospital from a staff infection! Of course it returned, but that time mom treated it naturally and it did not come back! Drew has always had a mouth full of sweet teeth, I have always thought! While mom was pregnant with him, we use to eat ice cream at Braums, every week, on the way home from church. Drew has always liked sweets over everything else!
Since his birthday comes at the end of June, we had a lot of fun times swimming, going to parks and other fun outdoor activities on his birthdays!
Since we do not visit with my family right now, I have not gotten to see Drew in a while. Drew was baptized not long ago, and that was very joyful for me to hear! Drew is a hard worker, loves to ride horses and over the years his "toys" have grown! From the trucks and cars he use to Love to play with, to weed-eaters, lawn mowers & golf carts and now to pick-ups, tracters, chainsaws and sawmills! He is as tall as dad now (dad is 6'2")! And looks so grown up!
I worry about him a lot, but just have to stop and pray for him! He was very troubled in the past, growing up, probably more then us older 3 siblings. I pray that he is more joyful now and that if he is not, God will soon lead him to where He wants him to be and gives him the joy and peace he needs!
I pray we get to see Drew more soon and can have many more joyful times to make memories in the future!
Until then though, I wish my dear brother many blessings and joys everyday and hope he had a Wonderful 18th birthday! I am so proud of him!