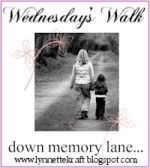 Happy to join Wednesdays Walk Down Memory Lane Today!
Happy 5th Wedding Anniversary to the Love of My Life!
Five years ago today, the love of my life took me to a courthouse and we were legaly married under a big tree that was in the courthouse yard!
There were only two other friends there. It was a warm sunny day! Just lovely!
I had never been to or heard about a courthouse wedding so was not sure if you were the wedding dress or not and since mine was second hand and not fitted for me, I just wore a nice outfit! Lol! Hey I was only 18, and didn't have a mother figure to help me!
For a while I was upset that I did not get a wedding with guest, cake, decorations and all the goodies, but I got over that. I did not need all of that, I have been blessed with a wonderful husband and marriage, and I am sooo thankful for that! Now we have been blessed with 5 years of being together Everyday and every night! Two little girls and I look forward to the future God has in store for us! He has been so Good to us!
We took some pictures of ourselves after we got back home! Thought I would share them here today! They may look unusual, with the background around them, but that is because they were in a scarpbook I started for my husband!
King Ed wanted a picture of me in my dress! It is no telling how old, but I kept it and if it holds up, may keep it for my girls!