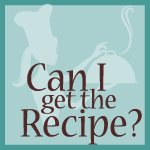 Hey! I do not think I have told you yet about, "Can I Get The Recipe?"! Well it is about time that I do! This is a great blog! And every Wednesday, if you are a subscriber, you can enter to win some really good cookbooks, etc!

This Week's Review and Giveaway is......
"Mangia with Quattro: Family Style Italian From the Heart"!
This looks like an amazing book and I would love to try the recipes in it!