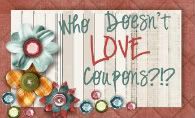 I found a great, new, blog today! Well, not sure how old it is, but it is new to me! =) The blog is "Who Doesn't Love Coupons?"! If you love coupons, rebates, freebies, reviews and giveaways, you will love "Who Doesn't Love Coupons?"!!
She has a great giveaway going on right now!
Win a $50 Gift Certificate
to use at one of the CSNstores.com shops! I love
CSN Stores.com
! They have Sooo many great products and a ton of them are under $50! So you should have fun with this giveaway!
Hurry the Giveaway ends on June 1st!
I would love to have one of these for canning season!