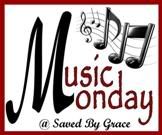 For more great, inspiring songs to start your week off on the right note, visit Shawntele's blog,
"Saved By Grace"!
After last weeks song by "Need To Breathe" (Washed by the Water), my girls have asked to hear it everyday! =) We just love it!
Well I decided to listen to more of their music while on youtube, and I found this song called "Garden"! It is sooo beautiful and I hope you enjoy it!
"Garden"
By Needtobreathe


Or maybe you want to hear the song live! And hear what they have to say about the song!