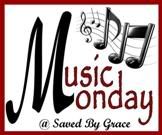 I have really missed joining Music Mondays the past few weeks! Mondays are just so hectic! *Sigh*! I really need my inspirational music on Mondays!
Visit Shawntele's blog, "Saved By Grace" for Music Mondays!
Our children ask to listen to music on the radio almost every time we get in the car! It is great fun to sing with them as we go down the road! We usually have a Christian music station on and the other day a song came on and I had never heard them sing before, but loved the song! Thankfully the name "Need To Breathe" was easy to remember! Lol! The video with this song is just Great too! I love the old scenery and clothes, the old piano and all, out in the country! If the video does not work, follow THIS LINK to Youtube!
Visit my giveaways (links on sidebar) and please enter while you are here!
God bless your Monday and week ahead!
~Hannah
"Washed By The Water"
By Need To Breathe
"Daddy was a preacher
She was his wife
Just tryin to make the world a little better
You know, shine a light
People started talking
Just to hear their own voice
Those people tried to accuse my father
Said he made the wrong choice
Though it might be painful
You know that time will always tell
Those people have long since gone
My father never failed

Chorus
Even when the rain falls
Even when the flood starts rising
Even when the storm comes
I am washed by the water

Repeat Chorus

Even when the Earth crumbles under my feet
Even when the ones I love turn around and crucify me
I won't never ever let you down
I won't fall
I won't fall
I won't fall as long as you're around me

Chorus
Even when the rain falls
Even when the flood starts rising
Even when the storm comes
I am washed by the water"

Repeat Chorus Twice