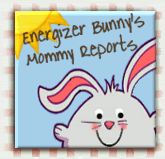 A while back I saw the new Veggie Tales dvd, "The Sweetpea Beauty" in a magazine!! How cute! I think my girls would love it, since they love Veggie Tales and Princesses!!!!
So I was very excited to see that "Energizer Bunny's Mommy Reports" (one of my favorite blogs!) is having a
Sweetpea Beauty Gift Pack Giveaway
! Yipppeeee!!! Not only could you win the dvd, but also a cd and Devotional!
Giveaway ends Oct. 30th!