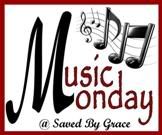 Finally back for Music Monday! Yippee! Great way to start your week! Visit "Saved By Grace" to link up your music or hear more uplifting songs!
Today I have to share three music videos!
If you have been following my blog long, you will have seen that the last few music Monday's I shared some songs by the band, NeedToBreathe"! My little girls love their songs!
This one below, "Lay 'Em Down" came on the radio the other day, and they were very excited to hear it!
It is really a great song! Reminds me of the old pictures and stories of everyone going down to the river for baptism and Church revivals! And that we need to lay everything at the feet of Jesus!!
My girls also love oldies songs! They saw the Jersey boys on Fox news "Huckabee" show a while back and have been singing "Walk Like A man" ever since! Lol! They like this video:



We sometimes listen to Country music, though it is Not my favorite since there are just Too many cheating, broken hurt and drinking songs! But when I heard this song the other day, I just had to hear it again and again! the music (and lyrics) are so pretty! I would love to play this on guitar!
Well there you go! Three music videos! Hope you enjoy at least one of them! lol!
God bless your week!
~Hannah