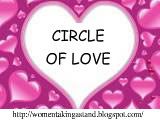 Every Friday, Laurie @ "Woman Taking A Stand" features a fellow, Christian, blogger and their ministry. I have been following Laurie's blog for a while, and was happy to share my blog with her.
Earlier this week she told me, I would be featured this Friday! Wow! How exciting and yet humbling! I really appreciate Laurie, her blogs and ministry, the hard work she does and for her featuring me! She wrote such sweet things and very encouraging to me!
I hope you will go check out her blog and read what she wrote!
If you do not follow her blogs, you should check them out! She has a Prayer blog, for Prayer Warriors! God bless her! And if you would like to be featured you can find out how to do that there!
Thanks!
~Hannah