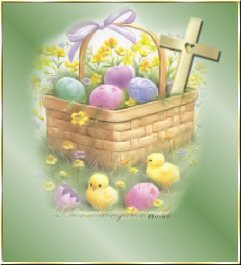 Happy Easter!

May God bless you today and may your eyes and heart be open and accepting to His love and peace and joy that He has in store for you today and in the future!
He Loves you!
He rescued you.
He cares about and for you.
You are His child.
He is waiting for you, every morning, to talk to Him.
Give your worries, burdens, & concerns to Him. He bears them for you.
Give your love, devotion, and respect to Him. He wants that relationship with you.
He died for you.
Live for Him!